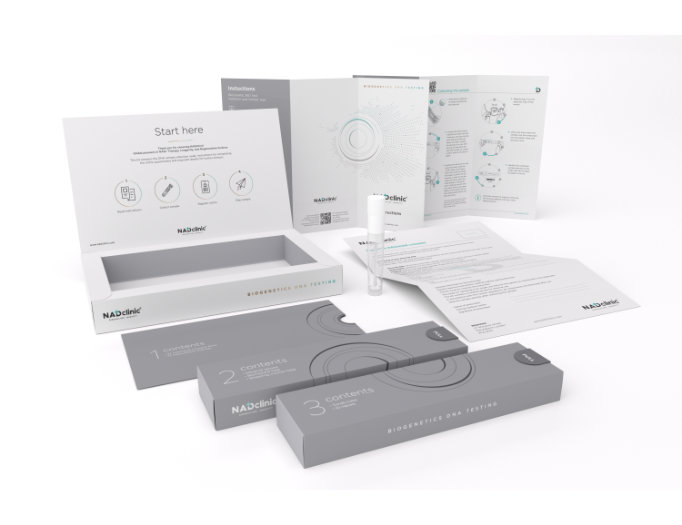 Gain an in-depth understanding of your patient's health at the cellular level, thanks to our ground-breaking DNA testing services.
BioAge DNA Test

BioGenetic 360° Test
Fill the form below and we will contact you as soon as possible.
DNA Tests
Our suite of DNA tests are tailored to provide patients with valuable insights into their bodies, which works by analysing an individual's unique genetic code. This advanced technology can identify potential health concerns and develop targeted treatment plans.
BioAge DNA Test
With the BioAge DNA test, we can accurately determine the body's biological age. This test measures how well or poorly the body is functioning relative to chronological age. With this information, it's possible to build a plan to reduce or maintain this number.
The BioAge DNA Test functions by measuring the length of telomeres. Telomeres are organic 'caps' covering the ends of each DNA strand, safeguarding it during cell replication. Every time a cell divides, this 'cap' shortens, eventually becoming too short to enable proper cell functioning and resulting in cell death. Although this is a natural occurrence during our lifespan, specific factors can hasten the process, such as poor diet, lack of exercise, smoking and alcohol consumption, obesity, and stress.
Through DNA screening and subsequent comprehensive DNA analysis with Fagron Genomics, you will have the information to develop a bespoke NAD+ Anti-Ageing IV Infusion Regimen. This in turn will help maintain or improve the age of your patients' cells.
BioGenetic 360° Test
This test analyses 384 genetic variations, to provide a deeper understanding of the body. It will also provide information detailing what patients would need to focus on to provide their body with the nutrients it really needs. It is the most complete nutrigenetic analysis on the market.
The BioGenetic 360° Test is an innovative two-parametric genetic test. It identifies significant genetic variations related to an individual's predisposition to metabolise particular nutrients and determines the telomere length of chromosomes. Specific gene polymorphisms can predict the likelihood of obesity and its related diseases. Individuals who store fat more efficiently are more prone to obesity. Other gene variations can also indicate the ability to digest lactose, allowing for the prediction of potential discomfort after consuming foods containing it.
NEED HELP?
Fill in the form and one of our representatives will get back with you shortly.
FIND A RESELLER NEAR YOU
We have an extensive network of clinics, partners and resellers across theworld for you to tap into and access all our NAD+ products.
Interested in our range of NAD+ products and diagnostics?
We have an extensive network of clinics, partners and resellers across the world.
If you'd like to buy our NAD+ products and diagnostic tools, please fill in the contact form below. A member of the NADclinic team will get back to you as soon as possible.